Suzuki Dismantlers Melbourne
If you need to sell your Suzuki and want to make quick cash out of it, look no further, as we are here to help you. We will pay you the best dollars for your scrap car. Now get the best cash price for your Suzuki car or your 4×4 and avoid all kinds of hassle and the waiting involved with private auctions or sales. You can also contact us at Suzuki wreckers Melbourne to get an estimate or a no obligation free quote and also arrange a particular time to come pick up your car and also pay cash for it. Everything is under our Melbourne's Wreck Yard.
Call Today For Selling Your Suzuki, Anywhere in The Melbourne at 03 9012 5916 
Suzuki car parts
Suzuki parts are held of high regard. They are inexpensive and quite durable. It comes with a great surprise, that they have a great demand for Suzuki spares in some of the regions in Victoria. Suzuki wreckers Melbourne are quite expert and are specialized Suzuki dismantlers who are proud of the long association with its brand. In case you are looking for some Suzuki car parts, we have a wide range of it. You have come to the right place.
Suzuki car parts Online
If you are looking for Suzuki car parts online, then Suzuki wreckers in Melbourne is a great choice for you. Having complete faith that you will be purchasing quality and only quality sued Suzuki parts for your vehicles from experienced and trustworthy Suzuki recyclers. We are also known to offer some of the very well known car parts at very affordable rates. Suzuki wreckers Melbourne deals with all Suzuki models.
We wreck various Suzuki models
Some of the Suzuki models include Suzuki Cappuccino, Suzuki Carry or Suzuki Lapin. Suzuki wreckers Melbourne stocks Australia's largest range of Suzuki parts, second hand, utilized and reconditioned 4 wheel drive or more. We proudly provide one of the free services and that is free removal of Suzuki cars. We collect Suzuki cars from all areas of Melbourne. This means you do not pay anything during the car sales process. Our team of experts will come tow your car and also pay you cash for your car. We have serval Suzuki Dismantler yards in Victoria where we can easily work for removals of vehicles.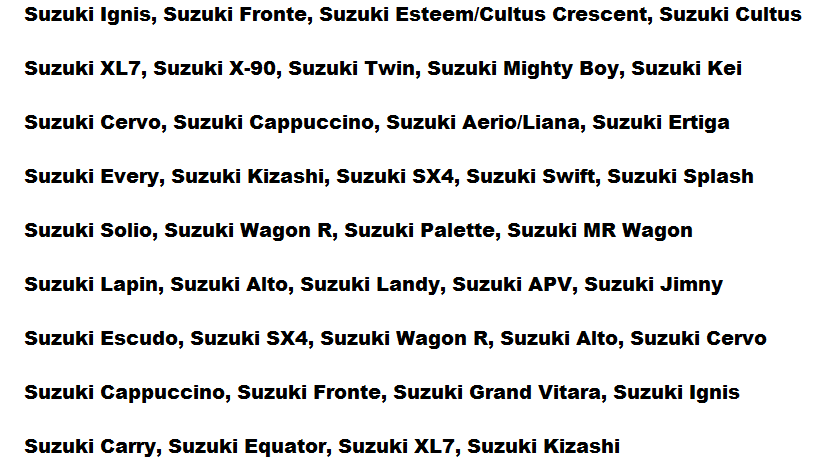 We wreck and remove your car for free
The free Suzuki car collection allows you to save some time and money and also saves you from any kind of headache. We also do all the necessary paperwork of your Suzuki car. Paperwork is also free. If your Suzuki car is not in good condition, then we will wreck it and dismantle it for its parts and scrap metals. Our process of wrecking Suzuki vehicles is called as the Suzuki dismantling. If you want to get in touch with us, call or email us. You could also fill up the quote request form online for more details. This will make it easier for us to communicate and better understand your requirements further
Find Important Sources: Subaru Wreckers , Dandenong Car Wreckers , Car Removals Melbourne , Japanese Wreckers Melbourne , Mercedes scrap yard Melbourne, Suzuki wreckers Melbourne , Honda Wreckers Melbourne, American Wreckers Perth, Car Removals, Melbourne Car Recycling